Rosemary
Names
English name: Rosemary
Binomial name: Rosmarinus officinalis L.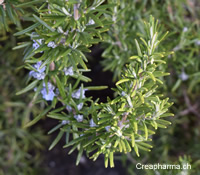 Preparations with Rosemary
Where grows Rosemary?
Rosemary grows wild along the coast of the Mediterranean Sea.
This woody culinary herb has fragrant evergreen needle-like leaves. The flowers are variable in color. Most of these plants in garden haven purple or blue flowers.
Rosemary is drought-tolerant and pest-resistant.
Useful Observation
– The Latin name Rosmarinus means "dew of the sea".
Source: Botanical Garden of San Francisco (CA)
Did you find this article useful?