Pine tree bud syrup
Use
– For chesty cough or bronchitis.
Ingredients
– 3 to 4 handfuls of very small pine tree buds (our photo: gathering pine tree buds in the Alps)
– 33.8 fl. oz (1 liter) of water
– 2.2 lb. (1 kg) of brown sugar
– 1/2 teaspoon (3 grams) of ascorbic acid (= vitamin C), for sale at the pharmacy
– 1 saucepan
Preparation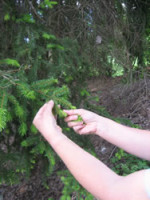 – Wash and chop the pine tree buds, put them in a saucepan
– Add the water and sugar
– Cook the mixture until a beaded, syrupy consistency is reached (= cook until a bead is formed at the end of the spatula)
– Let cool.
– When the syrup is cool, add the ascorbic acid
– Cover the syrup with a cloth (napkin)
– Let rest for 2 to 3 days
– Filter
– Pour into bottle
Dosage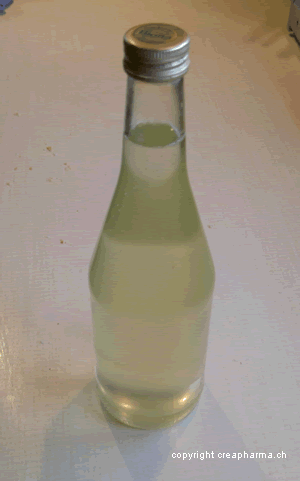 – 3 tablespoons, morning, afternoon, and night every day for cough or bronchitis (indicative dosage).
Shelf life:
6 to 12 months, stored in a dry place
See also: bronchial tea – plantain syrup
Did you find this article useful?