Marigold
Summary
Herbal plant with anti-inflammatory and wound healer actions, used especially against cuts and wounds, best taken as ointment (cream).
Attention, do not apply on bleeding wounds.
Names
English names: Marigold, Calendula, Pot Marigold, Ruddles
Binomial name: Calendula officinalis L.
French name: Calendula – Souci
Spanish name: caléndula
German name: Ringelblume
Italian name: calendula, fiorrancio
Portuguese name: calêndula

Biochemical composition
– Essential oils
– Bitter Glycosides
– Flavonoids
– Mucilages
– Bitter Principles
– Saponins
– Triterpenoids
– Malic acid
– Carotene
– Salicylic acid
​Part used
Flowers: floral heads or petals, essential oil, leaves (young leaves used in cooking as in salad).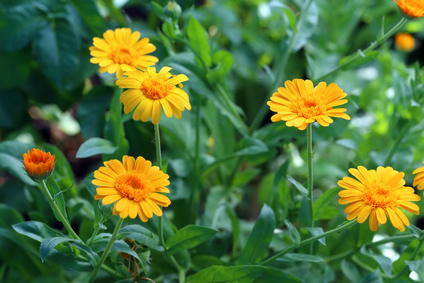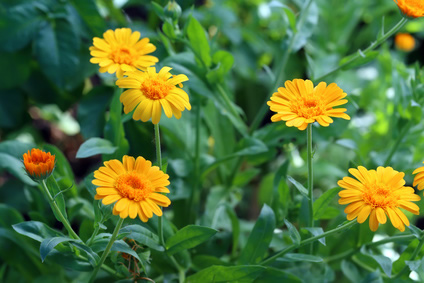 ​Key action
External use
Anti-inflammatory, antiseptic, disinfectant, healing (promotes the formation of granulation tissue), hemostatic, antifungal, astringent, antioxidant.
Internal use
Diaphoretic, diuretic, blood cleanser, immunostimulant.
Medicinal use
External use
Skin lesions: wounds, cuts, bruises, minor burns, sunburn, athlete's foot, vaginal yeast infections, bruises, inflammed rashes, hematoma, insect bites, impetigo, anal itching, varicose veins.
Attention, do not apply on bleeding wounds.
Internal use
Liver problems, painful periods (dysmenorrhea), sore throat, cough, cold, fever.
Side effects
Allergic reactions.
Contraindications
Bleeding wounds
Where grows marigold ?
Marigold grows best in temperate regions.
When can we collect the flowers of marigold ?
The marigold flowers are harvested in (early) summer.
Useful observation
– This plant is widely used to treat sores or inflammation, the effectiveness of this plant is no longer in doubt.
Furthermore, used internally the marigold seems very effective against liver problems and in case of sore throat.
– If you collect by yourself marigold flowers, try to dry them quickly to avoid the flowers lose their properties. To do this put the flowers to dry if possible on a neutral paper, not a newsprint (because printing ink may contain harmful substances), the best would actually use a dryer, you can make you own a dryer using a wooden frame and a mosquito net.