Acerola
Summary
Herbal plant originating in South America, very rich in vitamin C, which has a preventive and curative effect during infectious diseases. Often comes in tablet or lozenge form, or as a drinkable solution.
Names
English name: Acerola, Barbados Cherry, West Indian Cherry
Binomial name: Malpigbia punicifolia [Sessé & Moc. ex DC.]
Spanish name: acerola
French name: acerola
German name: Acerola
Italian name: acerola
Portuguese name: acerola
Biochemical composition
Vitamin C, vitamin A, vitamin B6, magnesium, iron.
​Key action of acerola
Antioxdants, stimulous in case of infectous desease.
Side effects of acerola
Not known
Contraindications of acerola
Not known
Interactions of acerola
Not known
Preparations
– Tablets
– Capsule
– Powder of acerola (for example take 1 coffee spoon of powder of acerola 1 to 2 times a day)
– "Drinkable" solution of acerola
– Acerola juice
Where grows acerola?
Acerola grows in South America, mainly in Brazil.
Useful observation
– Acerola is a well known plant in South America and in particular in Brazil. Indeed the fruits of the acerola (acerola cherries) are very rich in vitamin C. It is said to hold a concentration 20 to 30 times greater than an orange!
– The virtues of vitamin C are innumerable and are highly effective in preventing and treating many infectious diseases. An acerola-based cure can thus prove very beneficial, especially in winter if you often catch flu, chills or other coughs.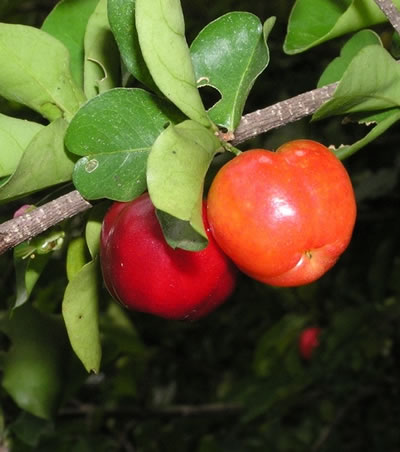 Did you find this article useful?