Wild thyme tea
Ingredients
For one cup of wild thyme tea, use:
– 2/5 teaspoon (2 grams) of dried wild thyme (our photo)
– Around 6.76 fl. oz. (200 mL) of water
* You can buy dried wild thyme at the pharmacy or you can collect the wild thyme herbs yourself from their natural
habitat and dry them.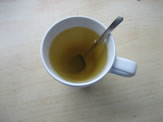 Preparation
– Heat water to boiling and then pour it over the wild thyme
– Infuse for about ten minutes (in order to obtain an effective dose of the active ingredients), you can add honey.
Dosage
– Drink one cup several times a day.
Avez-vous trouvé cet article utile ou avez-vous noté une faute ?
Laissez votre avis, nous pourrons ainsi améliorer la qualité de Creapharma.com.