Star anise decoction
Ingredients
– For one cup of anise decoction, use:
– Around 8 stars of star anise, preferably ground, for sale at the pharmacy.
– Around 10.14 fl. oz. (300 mL) of water
Preparation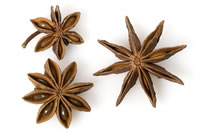 – Put cold water and stars of star anise on to boil in a saucepan
– Bring to the boil and leave for about 10 minutes.
– Filter if necessary (in this case, very easy, because the stars are solid and easily removed from the decoction).
Avez-vous trouvé cet article utile ou avez-vous noté une faute ?
Laissez votre avis, nous pourrons ainsi améliorer la qualité de Creapharma.com.