Remedy for bronchitis
Use
– For *bronchitis and *cough (expectorant effect)
*According to Mustapha from Morocco, who sent us this remedy in 2009

Ingredients
– 10 tablespoons (150 grams) of fenugreek seeds
– 10 teaspoons (50 grams) of black cumin seeds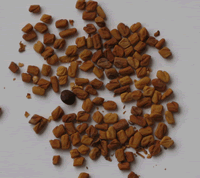 Preparation
– Wash the seeds in water, grind them to a fine flour and then mix them together.
Dosage
– Take a teaspoon of the flour mixture in the mornings with a glass of hot (but not too hot) milk.
Avez-vous trouvé cet article utile ou avez-vous noté une faute ?
Laissez votre avis, nous pourrons ainsi améliorer la qualité de Creapharma.com.