Plantain syrup
Use
– For cough (chronic or chesty) or bronchitis.

Ingredients
– Fresh leaves, stems and roots of narrow leaf plantain
– 33.8 fl. oz. (1 liter) of water
– 2.2 lb. (1 kg) of brown sugar
– 1 saucepan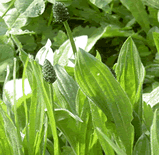 Preparation
– Wash the plantain well, i.e., leave it under running water for a while
– Cover the plantain with water in a saucepan
– Cook on low heat for several hours
– Crush (make the juice come out), filter (through a sieve), add candied sugar (around 2.2 lb/1 kg for the equivalent of one saucepan)
– Cook again (add a handful of dried juniper berries at this point if you wish)
– Pour the hot syrup into small scalded (sterilized) bottles, seal hermetically
Did you find this article useful?