Garlic syrup
Ingredients
– 16 teaspoons (80 grams) of garlic (approx. 2 bulbs)
– 5 fl. oz. (150 mL) of water
– 0.45 lb. (200 grams) of sugar
– garlic press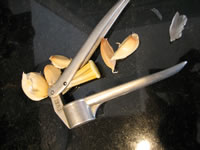 Preparation
– Crush the garlic or press it out with a garlic press
– Cook water and sugar until the sugar melts.
– Put the crushed garlic in the sugar-water mixture. Heat until it becomes a syrup mixture (when large bubbles appear it's ready), approximately 10 minutes' cooking time.
– Let cool.
– Filter
Dosage
– Take 2 to 3 tablespoons (or more) a day of this mixture
Preparation time
Around 15 minutes
Shelf life
6 to 12 months, stored in a dry place
Video of preparation

Did you find this article useful?