Cabbage leaf
Ingredients
– Cabbage leaves (preferably kale)
Preparation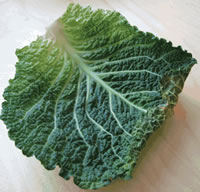 – Remove the long stems from the kale
– Place the cabbage leaves on a fine cloth
– Place the fine cloth with the cabbage in a cold oven, turn on to 200ºC and leave the preparation for 5 minutes
Dosage
– Apply to the painful areas (swollen knee, wrist,…) one or two layers of cabbage leaves crushed beforehand with a rolling pin (to make the cabbage juice come out).
Avez-vous trouvé cet article utile ou avez-vous noté une faute ?
Laissez votre avis, nous pourrons ainsi améliorer la qualité de Creapharma.com.